Erin Hallstrom MSOM LAc
Erin Hallstrom, a lifelong advocate for health and wellness, has worked as a personal trainer and nutrition coach after receiving her Bachelor of Arts degree in Physical Education.  Desiring to advance her education, Erin earned her Master's degree in Oriental Medicine from Southwest Acupuncture College in Boulder, Colorado.  Following a two year apprenticeship at Mountain West Wellness under Dr. Jack Schaefer DACM, Erin was invited to join the team as an Associate Acupuncturist.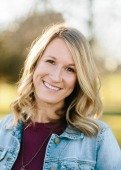 Erin brings a welcoming energy to her practice by focusing on a team-centered approach.  She understands that the best healing results occur when the patient and doctor work together.  Respecting that you know your body better than anyone, Erin will attentively listen to your health concerns and desires for the direction that you want to go in your treatment.  As a skilled practitioner, Erin will work with you to create a treatment plan that will bring about optimal results in the shortest time possible.  Erin has also done advanced training in cosmetic acupuncture for those that are seeking a natural way to improve their skin.  She also has a passion for treating dermatologic conditions.

Erin is an outdoor enthusiast and avid rock climber.  Upon moving to Boulder, she quickly realized her connection to this community and the culture of wellness that thrives here.  As a climber, she understands that injuries inevitably happen and values the importance of remaining healthy and able to participate in the activities you love.