Hi



Happy August. I really hope that your summer has gone well. We are fast, and sadly, leaving summer and headed to Autumn. But before we get there we still have a few weeks of fun ahead. Our August newsletter is here for you with some information that I hope is helpful for you.
Can Acupuncture Effectively Treat Psoriasis?
Affecting approximately 125 million people – or about 2-3% of the global population – psoriasis is one of the most common autoimmune diseases in the world. It's characterized by the chronic formation of skin lesions, red patches, papules and plaque. These formations may appear in localized areas of the body or throughout the entire body, depending on an individual's condition.

Psoriasis is known to trigger intense bouts of itching. The sensation can be so intense that it causes the individual to scratch infection-prone sores into his or her skin. Regardless of how bad it itches, you should never scratch your psoriasis, as it will only make the condition worse.

As with most autoimmune diseases and disorders, psoriasis is caused by an overactive immune system. The immune system is responsible for fending off potentially harmful viral and bacterial infections. It does this by producing key inflammatory hormones. Normally, it produces the right amount of these hormones, but there are times when it produces too much; resulting in conditions such as psoriasis.

The good news is that acupuncture may offer relief of psoriasis and its related symptoms. Acupuncture can have very positive effects on the immune system. When we are sick or dealing with chronic illness, our bodies are not able to function properly. This can be due to the body's natural energy being restricted or blocked. Acupuncture works by treating the whole body and releasing any abnormalities through acupuncture points. By doing so, the body is able to function as it should and the immune system is strengthened because of this.

With psoriasis, the Spleen 10 xue hai acupuncture point is a popular choice because it targets the immune system.

One study found acupuncture to be effective at treating psoriasis, particularly when western medicine has been exhausted. "Our experience indicates that acupuncture is induced an effective therapeutic modality for psoriasis, particularly when the western medical management is unsuccessful. We speculated about the possible involvement of the cutaneous reticuloendothelial system in the clearance of the skin lesions," wrote the study's researchers.
---
3 Ways to Prepare For Seasonal Changes
As the transition from summer to fall begins, changes start to happen externally as well as internally. The days become shorter and the air gets cooler; our bodies change to adapt as well. Here are three ways to prepare for the fall season ahead along with the beginning of the yin cycle.

1. Let go of negativity

The autumn season represents the time when the lungs and large intestine are of the utmost importance. This season is especially an important time to let of negative energy in your life.

Negativity doesn't just affect your psychological health but your physical health as well. You can help get rid toxicity in your life by being aware of the causes and surrounding yourself with positive energy and people who make you happy.

2. Spend time outside

Because fall is focused on the lungs, spending more time outside can help strengthen this organ and increase your immune system as cold and flu season starts to emerge.

Spend time in nature away from city pollution where you can breathe clean, cool air. Autumn time is the perfect opportunity to do this and refresh and strengthen the lungs.

3. Acupuncture

Acupuncture treatment can help you physically as well as mentally prepare for the change in seasons.

Some find it difficult to let go of the summer season and transition to shorter, cooler days. Acupuncture can ease this transition and make sure your body and energy are flowing properly.
---
Germ Warfare
You never have to wonder when the cold and flu season is around the corner. The pharmaceutical industry will be sure that you are reminded of its arrival. The pharmaceutical industry and the medical community at large are depending on you to leave the fate of your health and well being up to the workings of chemical-laden pills and shots rather than the innate power that runs your body and the living world around you.

The reality is that germs don't make you sick. Rather, your body's inability to fend off germs and foreign invaders is what results in you succumbing to illness. Think about it… How is it possible that a family of 5 people living under the same roof can have completely different reactions during flu season? Assuming that everyone is exposed to the same germs and viruses, if the sickness were attributed completely to the virus, everyone would get sick and exhibit the same reaction and symptoms.

What happens in reality is that one or two family members get ill while the others don't. Clearly the issue is not the germs, but the body's response to them, caused by an individual's immune system.

Chances are the last time you got sick you were running yourself ragged, missing sleep, eating improperly, slacking on your nutrition, all stressed out from work, skipping your acupuncture sessions, and neglecting your workouts. This is a vicious pattern that many of us fall into and it's one that weakens the body and allows germs to take hold.

Your best defense against the flu, colds, or any other germ-borne illness is not to drug yourself, but to bolster your internal defenses. You stand your best chance of being at your healthiest when you have an optimally functioning nervous system and immune response.

So come in for an acupuncture tune-up, keep your lifestyle habits in good order, and maintain a positive attitude. Do so, and those pesky little germs don't stand a chance!

Here is a little help sheet that you can print about improving immunity: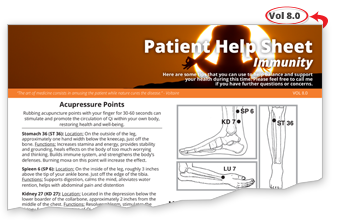 ---
Please Like Us On Facebook
If you are a Facebook user please "Like" us. Just click the box below and you can join. Sometimes we post special deals just for our fans!

You can also follow our blog on our office website at www.mountainwestwellness.com From there you can just click the
. blog button.
In addition, thanks for opting in to receive this newsletter digitally rather than by mail. It will help us to save paper and resources, thereby protecting the environment.

Please feel free to forward this newsletter on to anyone that you know who might be interested in the information.

Stay Healthy!

Jack, Kim, and Lynn